AT THE STUDIO TIME
View of the painting studio
Accumulation of alarm clock faces on the facade of the painting studio.
Le Bidonville, Vence.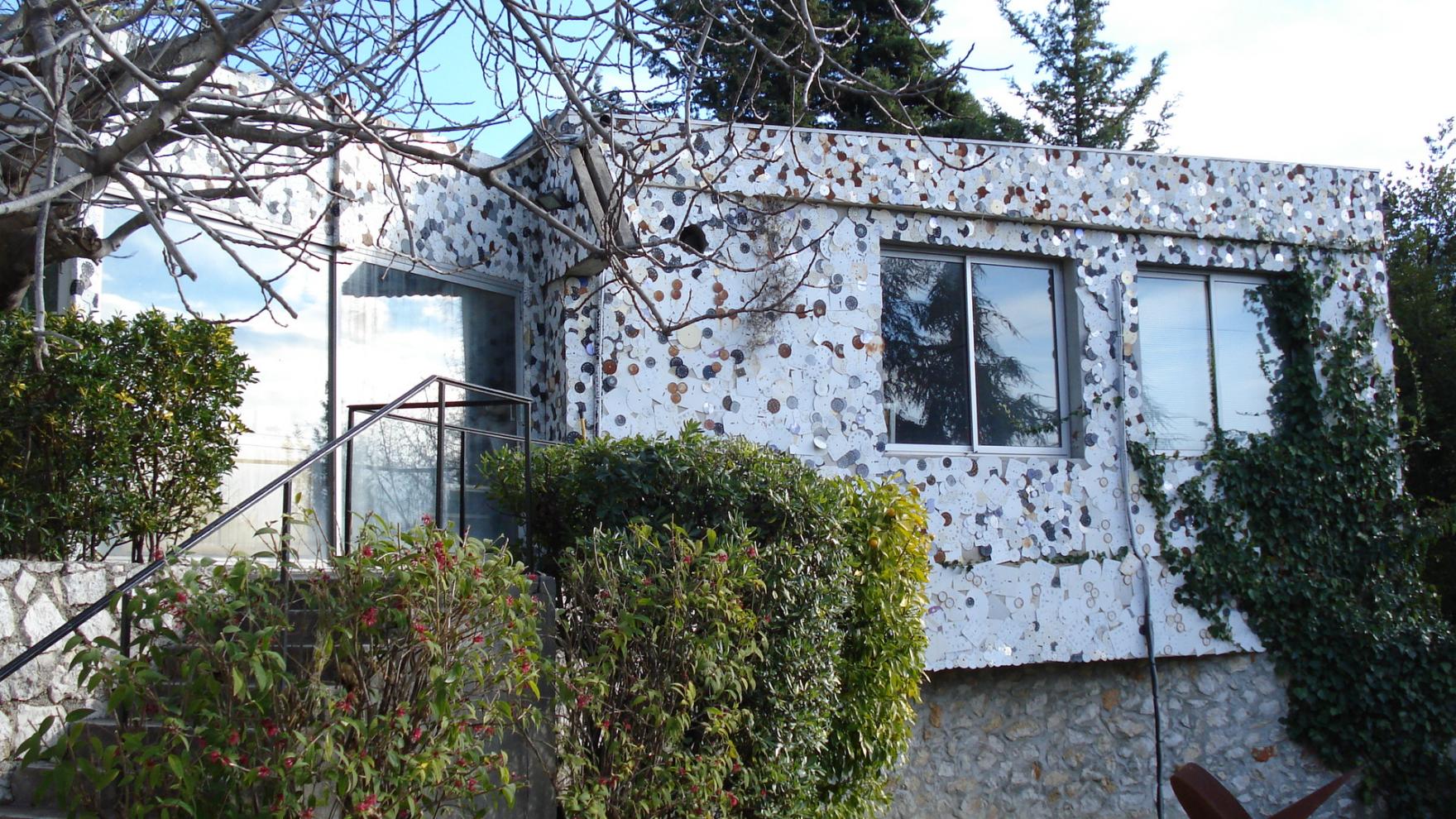 The painting studio is covered in clock faces on the outside
An object which is dear to Arman for the evocation of TIME.
" - I was drawing watches" ...
L'HEURE DE TOUS 
When a clock is seen sideways, it no longer indicates time" said MARCEL DUCHAMP.
Us, in France, we are lucky.
At the Saint Lazare train station, from wherever you look to see it, you always get the time and the place right.
Because France ordered this "HEURE DE TOUS"  (Time of all) created by ARMAN in 1985.
To focus on our rendez-vous on time.
Without getting lost.
"... Rendez-vous in front of the clocks!!..."
Time reconciled for not being lost in the middle of nowhere anymore. Materiality of the meeting when the Work provides the solution.
Proof by casting out the twelve that the thing is really it and not another one or its opposite.
Delight of the certainty that one is not going to get lost.
YES, We are lucky.
ALL, we have this fixed rallying point.
One even forgets the fleeting or the relative nature of how things are ordered. The object is no longer a question, no longer a problem: it becomes the solution.
The aesthetic offered by the so concerned artist as ARMAN was, with the right hour and time, became ours.
He used to repeat how punctuality is the essence of courtesy to insist on how important it is to have due respect of the right place, the right time and others.
This "HEURE DE TOUS" insinuated in our day by day familiarity offers us the proximity of the bond with him in the aesthetic solution made popular.
Where we can skim past it as we want, when we want and arrange our time to write the agenda.
He makes the point, the one punctuating our races or suspending our sighs.
While telling us the time.
From what ever side.
Since it is HERE, OUR TIME FOR ALL.
To retrieve each other.