THE KEY TO THE WHOLE STORY
If that was the key to the whole story ?
The key to the question of his womanizing man's life and his works to be accumulated ?
Art historians, take your pens: Arman did not imitate Don Juan or Casanova.
Only embody to the female interlocutor. For real.
What is more natural than talking together? This talk about the origin? About the the secret link. With the one with whom so much was said of their five years of life shared together, mother and son, in this room of the Grand Hotel de Grasse. Tonight he persists in trying to find the meaning of things, finding the place, the place of his father, his son; the father, the son.
Him.
A man's place that would not be that of the dependent child to know the face of the other who listens to him and who he listens to. Tonight, he builds the story to recompose the image.
I look and listen...
As we did so often...
To think and try to understand, this is our education.
These women, all women are parading with sound and images to connect to their unique place in multiple and I know they are not mistaken.
He loved them, each one, all of them, a single one, the same together.
In the infinite appetite of sharing culture: sound, writing, journalism, history of art, photography, Film.
For words.
For the thing one has to say, show, listen.
THE LETTERS.
WOMEN of letters.
In the shadow and light of a library of knowledge, those that provide instruction... Yes of course he said so often and showed his admiration for her!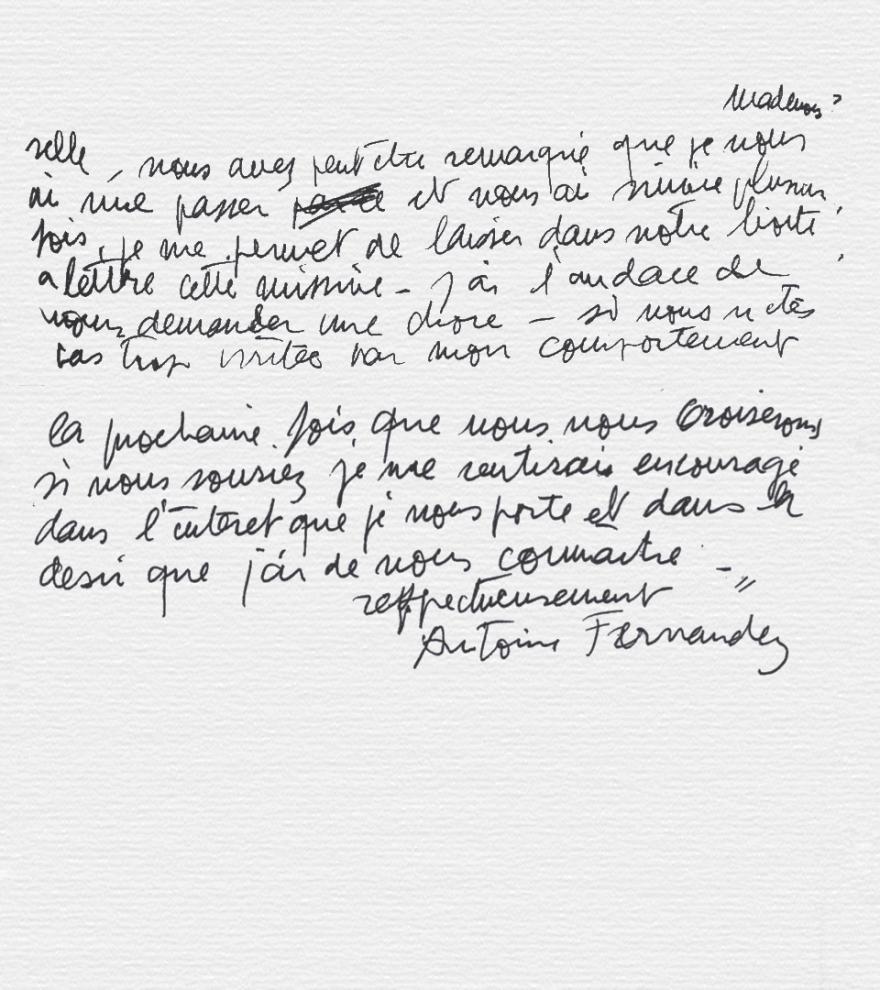 From Arman's diary, December 31, 1992 entry.
"Mademoiselle, you may have noticed that I have seen you move and have followed you several times. I would like to leave in your letter box this missive. I have the audacity to ask you one thing, if you're not too annoyed by my behavior. The next time we will come across each other, if you smile I will feel encouraged in the interest I have for you and the desire I have to know you.
respectfully,
Antoine Fernandez"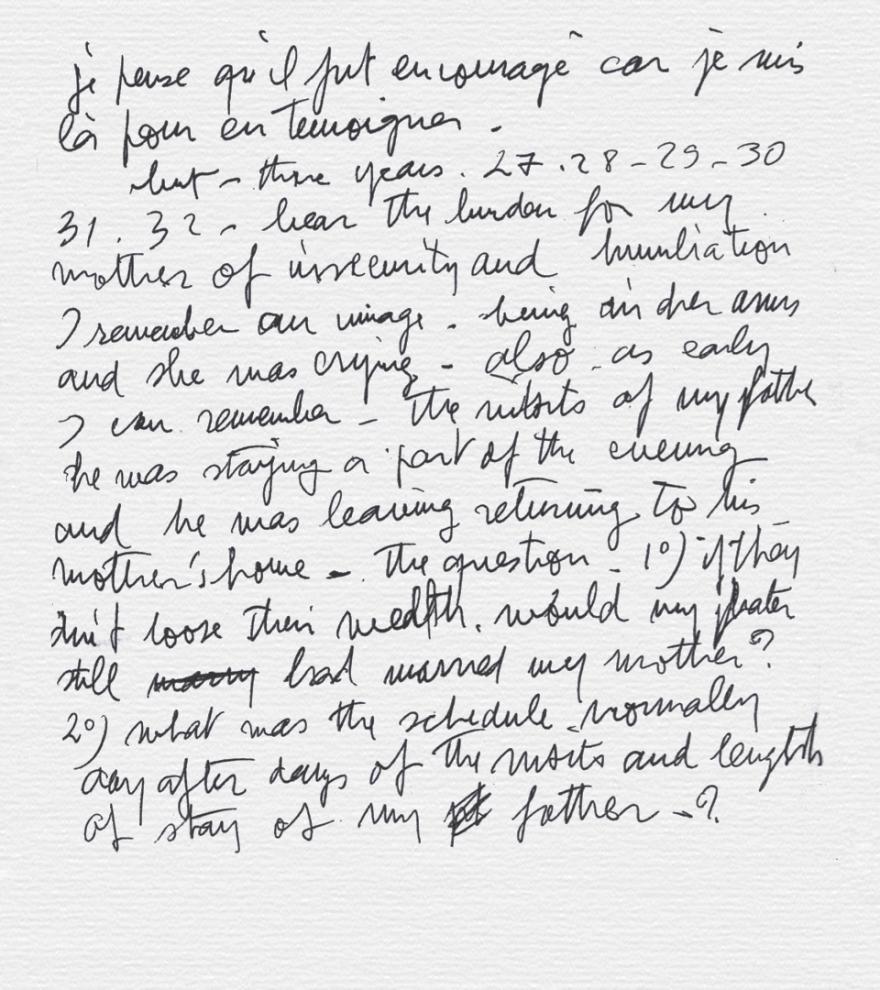 From Arman's diary, December 31, 1992 entry
I think he was encouraged because I'm here to attest it.
But these years 27 - 28 - 29 - 30 - 31 - 32 - bear the burden for my mother of insecurity and humiliation.
I remember an image,  being in her arms and she was crying. Also as early as I can remember, the visits of my father he was staying a part of the evening and he was leaving, returning to his mother's home.   The question.  1°) if they didn't loose their wealth would my father still have married my mother ?
2°) what was the schedule normally day after day of the visits and length of stay of my father ?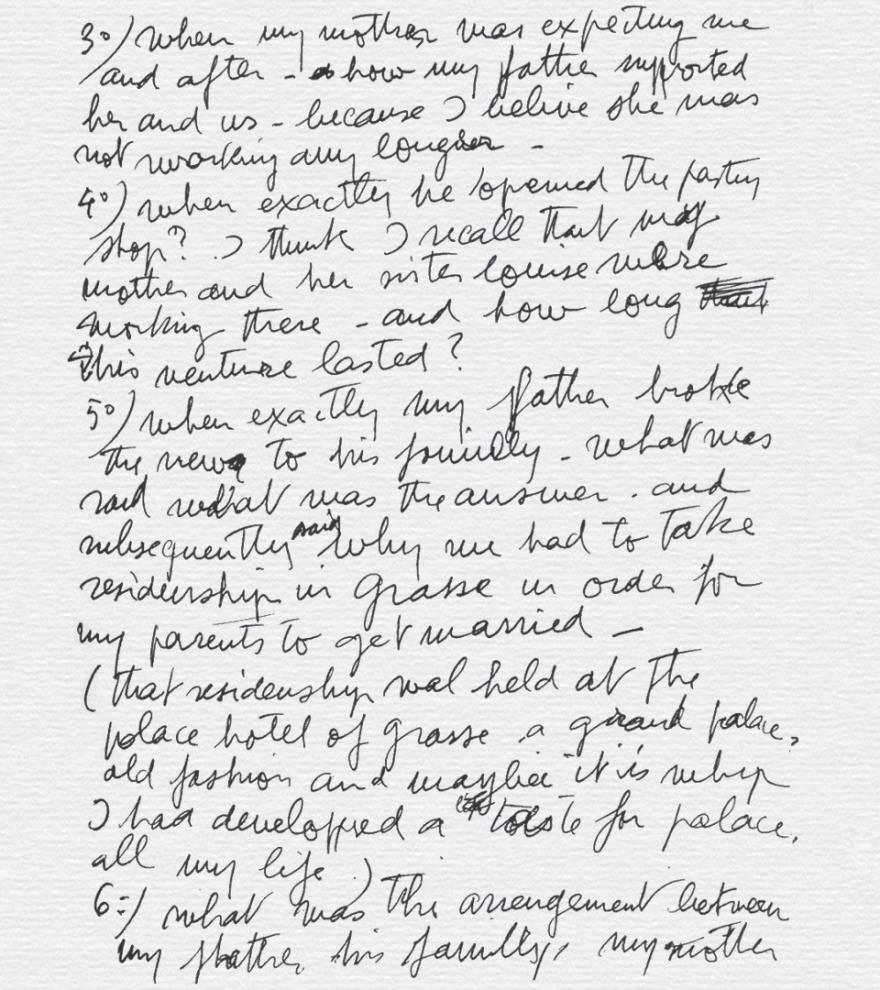 From Arman's diary, December 31, 1992 entry.
3°) when my mother was expecting me and after, how did my father support her and us,  because I believe she was not working any longer.
4°) when exactly did he open the pastry shop ? I think I recall that my mother and her sister louise were working there. And how long this venture lasted ?
5°) when exactly my father broke the news to his family. what was said, what was the answer and subsequently why we had to take residence in Grasse in order for my parents to get married. (That residence was held at the palace hotel of Grasse, a grand palace old fashion and maybe it is why I developed a taste for palace all my life).
6°) what was the arrangement between my father, his family, my mother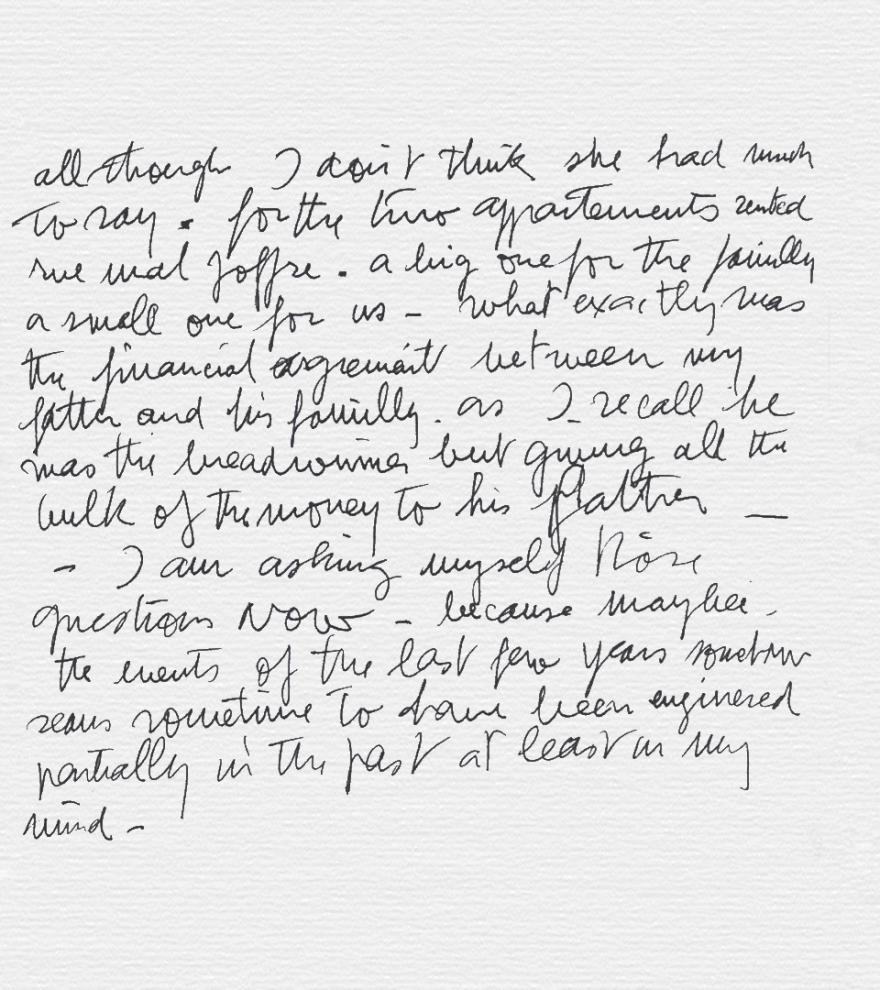 From Arman's diary, December 31, 1992 entry.
although I don't think she had much to say, for the two apartments rented rue Marechal Joffre; a big one for the family, a small one for us. What exactly was the financial agreement between my father and his family. as I recall he was the bread earner but giving all the bulk of the money to his father. I am asking myself those questions now, because maybe the events of the last few years somehow seem sometimes to have been engineered partially in the past, at least in my mind.
 
---