A MAN'S STORY.
But there is no woman attending this ritual.
This tango is a man's story now.
And indeed it is strange because Arman talks at this moment: of masculine.
Of his son, Yves.
Of his father, Fatheur.
His absent ones.
The clock has stopped time, it no longer gives the time.
Except for that of...
WAITING.
How to show this image...
THE ABSENCE.
He drew clocks, Armandito...
"  - I DREW CLOCKS.  "
Those so much looked at?
By him and by the other.
They have waited so much for him:
Antonio, his father, until this time when he was not coming for days...
This time that sets the occurrence of a possible deconstruction.
The hypothesis of a catastrophe.
A decomposed time.
To recompose.
Immediately he explained how it all went wrong against normal course with this car rolling out of the road this February 14th 1989 near Saragosse (here again Spain, a fate...)
" - This is when I started my cancer of the widow ".
Really? So he became the other one: the woman who carries in her...
His father.
He died later but in the right order of things, he was old, but still Arman's heart exploded... With the superimposed memory of these two moments when he was unable to go to recognize them, neither one nor the other, he was just breathless.
Because the look, the vision is so much for real, that the end, this particular end, he could hear it, by force, ears cannot be shut.  But there is no other solution than close your eyes to the images.  Not "-way out" here. Movement is gone, breathing is gone. The body to contact is lost: to the subscribers of... the absence.
Just emptiness.
How to re-compose again without betraying the bang ?
How to restore the sight, the sound, the image, the story, the full ?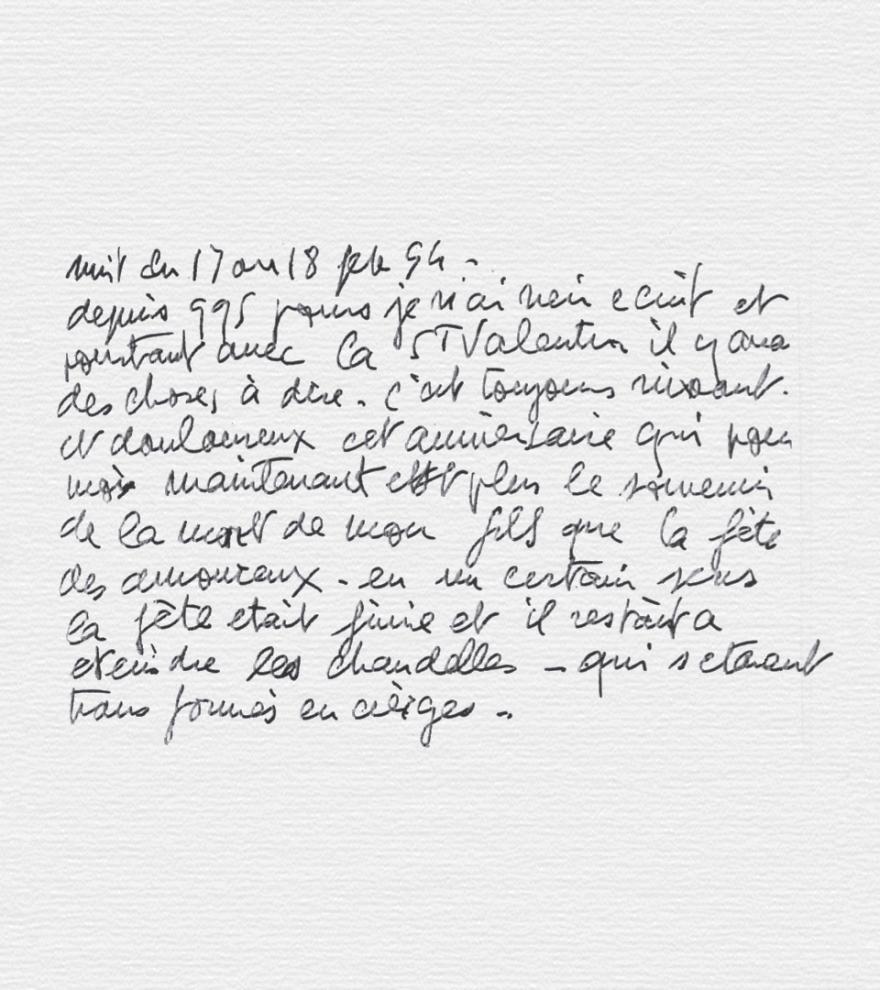 Night of 17th to 18th Feb. 94
Few days since I have not written anything and yet with Valentine day there would be things to say. It is still vivid, and painful this anniversary that has now become more the memory of my son's death than the day for lovers. In a sense the party was over and all there is to do now is to extinguish the (party) candles - which have turned into (liturgical) candles.
---