FULL-UP
1960
EDITION SIZE: 500 copies from 1 to 500
TECHNIQUE: Poubelle (Garbage)
DIMENSIONS IN INCHES.: 4,1 x 2,5 x 1,1
MEDIUM: Tin sardine can printed in a cardboard box with a notice, invitation to opening of the exibition "LE PLEIN" at Iris Clert gallery, Paris (France)
PUBLISHER: Iris Clert Gallery, Paris (France)
MAKER: Unknown, (France).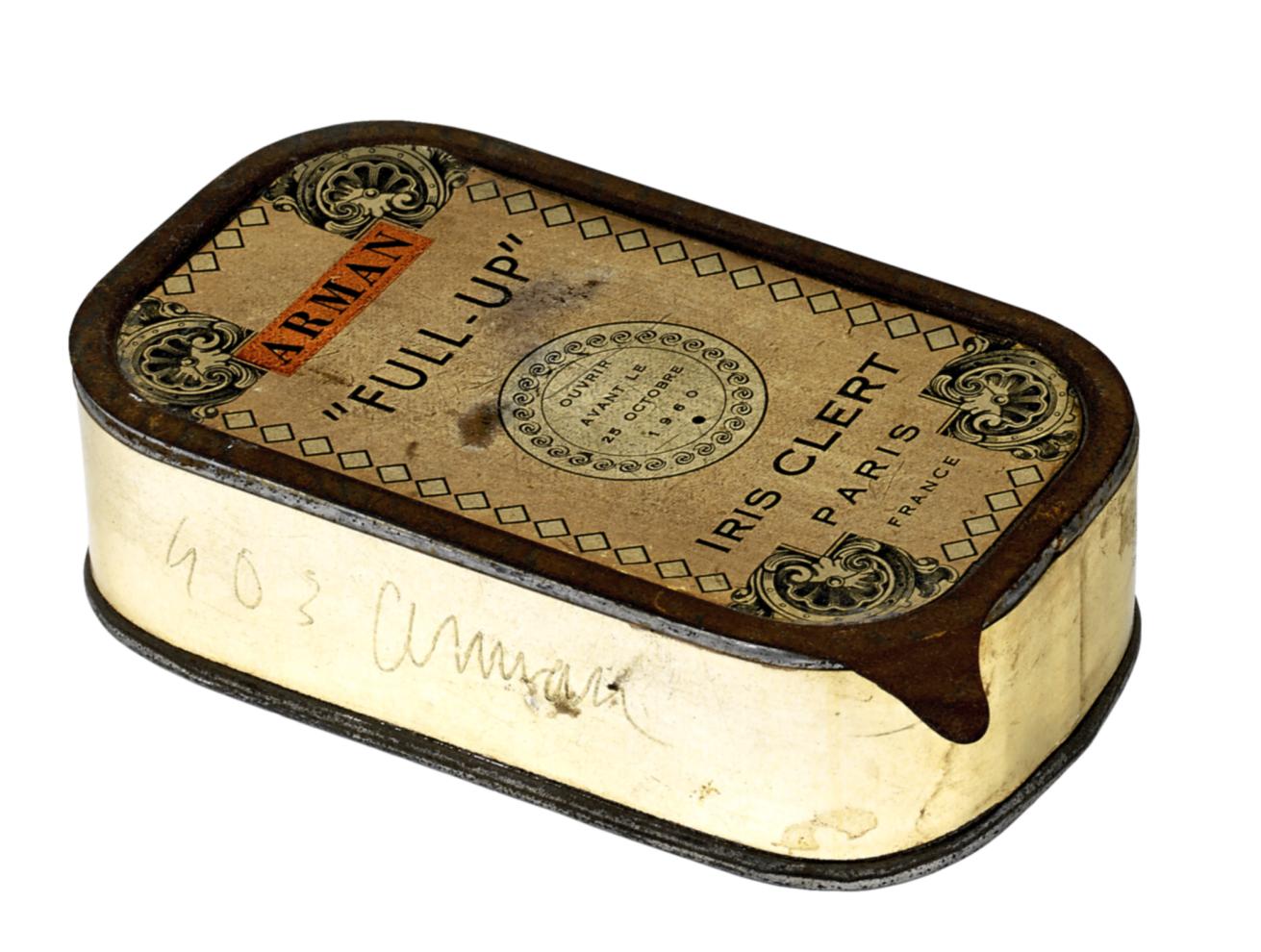 TAKING OFF.
The year 1960 will see ARMAN's notoriety take off.
The event that will single it out, is LE PLEIN, i.e. the "FULL UP".
With the help of MARTIAL RAYSSE, Arman fills up the IRIS CLERT gallery, 3 rue des Beaux Arts in Paris for an opening on October 25th 1960.
They pile up all kinds of objects such as old records or defective lamps before realizing that filling the gallery will require a hefty volume of objects difficult to gather up. Therefore, they contacted the Abbé PIERRE and asked him for some old pieces of furniture.
"Arman, helped by a young friend from Nice, Martial Raysse, came and prepared his exhibition. After having emptied my gallery and put the items in my cellar, they started to pile up all kinds of objects, like defective Mazda lamps, old records, etc. But it was only a drop of water in a lake. We soon realized it would need an important volume to make this "Full up". I asked help from the Abbé Pierre ( I've always been "successful" with clerics).
- Father, would you agree to sell me old unused pieces of furniture to fill a space?
- Yes, if you come to pick it up yourself.
For a 100 new French francs, this remarkable man filled up an entire truck for us.
For two days, Arman and Martial Raysse will pill up, accumulate, superimpose a bundle of wobbly pieces of furniture, chairs, tables, bidets, old bicycles. The result is amazing. The by-passers can see, in an 11,5 feet-high window, a spectacular accumulation of garbage.
Inside, at the back of the shop, a space is created for my desk and chair.
On a wall, I hang up some boxes of Arman, his Accumulations whose title and content were: DIRECT to the MOON (suppositories), RETURN of the CRUSADES (rusted keys), LIFE with all your TEETH (old dentures). A cube of glass filled with old pans, which I baptized "HOMAGE to the FRENCH CUISINE", is on the floor".
The invitation card for the opening is a sardine can filled up with wastes and containing a text by the French art critic PIERRE RESTANY: "A major event at Iris Clert 's in 1960 gives to the New Realism its architectonic dimension. In such a context, the fact is quite important. Up until now, no move of appropriation at the antipode of emptiness had encircled so closely the authentic organicity of contingent reality."
---