Arman letter to Eliane
October 3, 1957.
 
Nice le 3 totobre 1957
PROFESSEUR ELIANE FERNANDEZ
CHEZ RADIGUE
5 Rue de la Lingerie
Paris Ist
My fâââââââââââââmme (=wife)
I am so much with you all the time that when
I called you I had taken with me
the statuette as if I could show it to you
it is significant. give me details on what's
preparing at "RUSA". I want to know it all
hang around in all these events to
occur. the ideal would be if it bursts when
you'll be about to leave to Germany.
continue with the idea of the film, me I am working
that's it, I am back online to work
going ahead with palmed feet in the dish, flapping ears and
dribbling mouth- I devour you
with tender savage calculated kisses in the neck
your Jules (=man) not too ugly still.
 
Arman (with the "d" cased in a present attached at the end)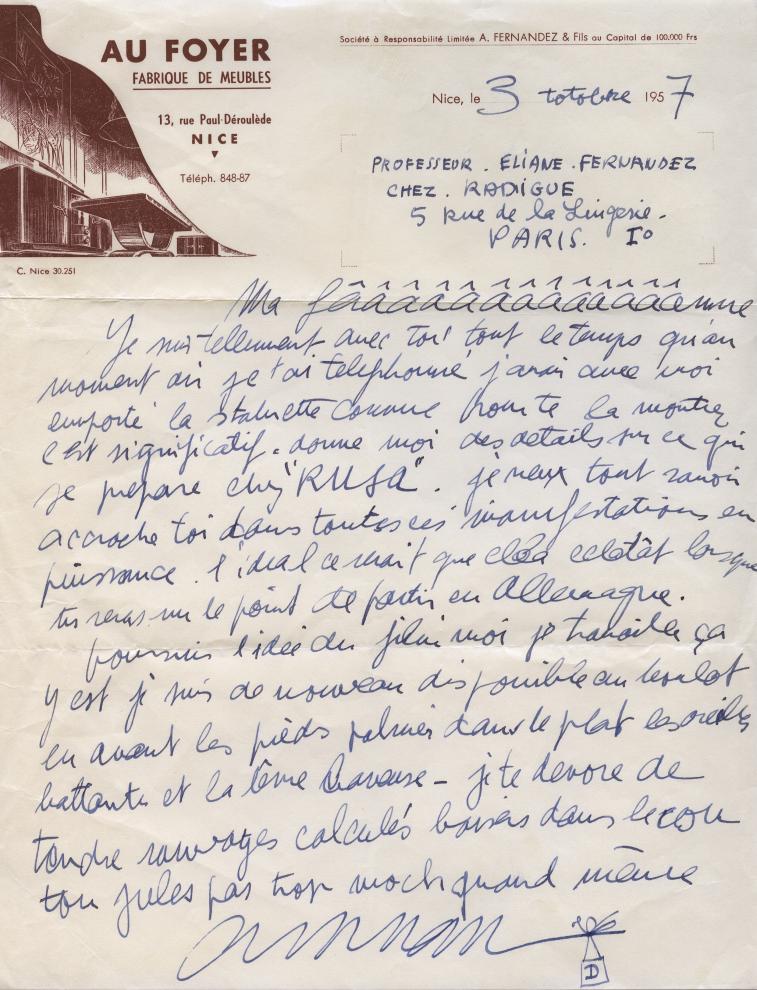 AS ATTESTED BY THE POSTMARK.
The end of a Legend...
And the importance of ARMAN's letters to ÉLIANE to write History.
Where the posthumous importance of the letters ARMAN wrote to ÉLIANE to attest of the History, accurately…
On the invitation card, a misprint of the printer transforms his first name into "ARMAN", that's what the legend says.
In this letter sent on December 10th, 1956, Éliane is at the sanatorium to be cared for her tuberculosis. In the tearing apart of the family, Christmas is approaching and the idea is to succeed in regrouping all of us together. The letter cites this meeting of all of the family, in Paris and, for the first time, Arman raises a question at the end in relation to his signature (Jacques is a friend who came to live at Parc de la Californie (in Nice) where Arman is all alone(!)).
Is it simple coquetry? Or the beginning of the identity path of this big artist who marked his time?
History is on the move!
Then in a letter from October 3rd, 1957, his final decision is already attested in the signature that he'll keep to the end.
In his own way!
One can recognize him well here in the malicious visual humour which resembles him so much…
The decision is accomplished this day of October 9th, 1957 as attested by the postmark on the envelope!
In May 1958, the legend of the typographical error came to rebuild the historical truth.
Everything was ready BEFORE.
Just as ARMAN never went in his workshop without having planned and knowing before what he was going to do there, with his famous sentence "LET'S WORK!"
To wait with the appetite of realizing his idea, for the incisive meeting with the experimentation to readjust unexpected events and invent "the ways out" from the engagement with the material realization.
And find the WORK.
In the activity to create. 
---